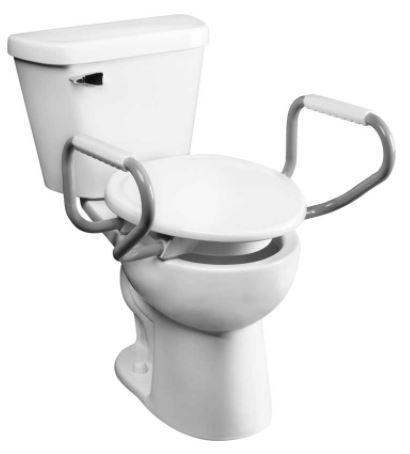 More than simple arm rests, our Support Arms are weight bearing and support "all of you" when sitting and standing. View more
Support Arms for Clean Shield Elevated Toilet Seat
FULL SUPPORT: Each side tested & passed 350 pounds

ERGONOMIC: Proper positioning of hands for sitting & standing

COMFORTABLE: 21" width between the Support Arms

UNIVERSAL: Fits both Round & Elongated Clean Shield Seats

AVAILABLE SEPARATELY: Add to your Clean Shield seat when you want them
SECURITY, SAFETY & INDEPENDENCE
More than simple arm rests, our Support Arms are weight bearing and support "all of you" when sitting and standing. Combined with our Snap 2 Secure seat installation system, uneven pressure can be applied to the arms and the seat will not loosen, ever. Our arms provide you full support when you need it!
ERGONOMICALLY CORRECT
The ergonomic design of our Support Arms helps you sit and stand safely. Our arms are positioned to keep your hands in front of or equal to your hips at all times. Proper hand positioning allows you to use your full strength to assist you when sitting or standing.
STRONG & GOOD LOOKING
Designed to support you safely, our Support Arms are tested to 350 pounds, each side! They are heavy gauge aluminum and powder coated for good looks and protection. The handle diameter is 1.5", meeting ADA grab bar requirements. Good looking, strong and there to support you… what more could you possibly want.
ELONGATED or ROUND
Our Support Arms are designed exclusively for the Clean Shield seat. The Support Arms fit both the Elongated and Round Clean Shield seats. Comfortable 21" width provides you extra room and enough width to lift the ring to the upright position without hitting the toilet tank.